Vanlife Philosophy
Embracing freedom to live life on the road
If you ask us, our friends or any other person living in a van what it means to live there, you will most likely get the same answer: freedom.
The vanlife philosophy is about exploring the world and embracing a nomadic lifestyle.
It is about living life on one's own terms, without being tied to an eight-hour job or a specific location.
You can go wherever you want and still make a home wherever you end up.
This lifestyle is incredibly freeing and has been adopted by those seeking to escape the hustle and bustle of modern life, like us!
It is a lifestyle that encourages personal growth, exploration and adventure, as most of the time we don't know where we will end up and every day is a discovery, finding ourselves in new places and meeting people we have never met before.
We do not have to worry about the daily grind or the stress of everyday life as we can focus on what interests us, being free to explore the world at our own pace.
Taking your time
Vanlife encourages people to explore, always creating new memories, and to take their time, instead of always rushing.
It also encourages us to live a minimalist lifestyle, appreciating even the simple things that life has to offer, as a van like ours has only limited space available and you can only carry what is strictly necessary.
For example, before life in the van, we never expected that a washing machine and freshly laundered clothes could make us so happy!
The experience of living in a van is different for everyone, and there is no two people who can experience the same, but one thing we all have in common is the excitement that comes from being on the open road.
Many vanlifers find that they have a strong connection with the places they visit, the people they meet and the nature that surrounds them as they travel, and they seek out more and more destinations that can give them these feelings, and so do we.
The vanlife philosophy also involves a lot of do-it-yourself, in fact building your own van is an integral part of this lifestyle and also a great way to save money as well as to have the freedom to design your own home to your liking.
Building your own van
Building starts from the design of the interior to the customisation of the exterior, all the way to the installation of electrical and water systems, and that is exactly what we did!
After buying our empty T5, we created our own little home on four wheels.
There is everything we need: running water, electricity, a bed and space to store our luggage. We can even climb to the roof using a fixed ladder, on which we have installed another water tank with storage boxes and a solar panel for self-generating electricity.
The interior is designed to have a large seating area during the day, transforming into a bed during the night with a few simple steps.
It was also important to us that the design was photogenic, small details such as garlands and fairy lights make our van even cosier.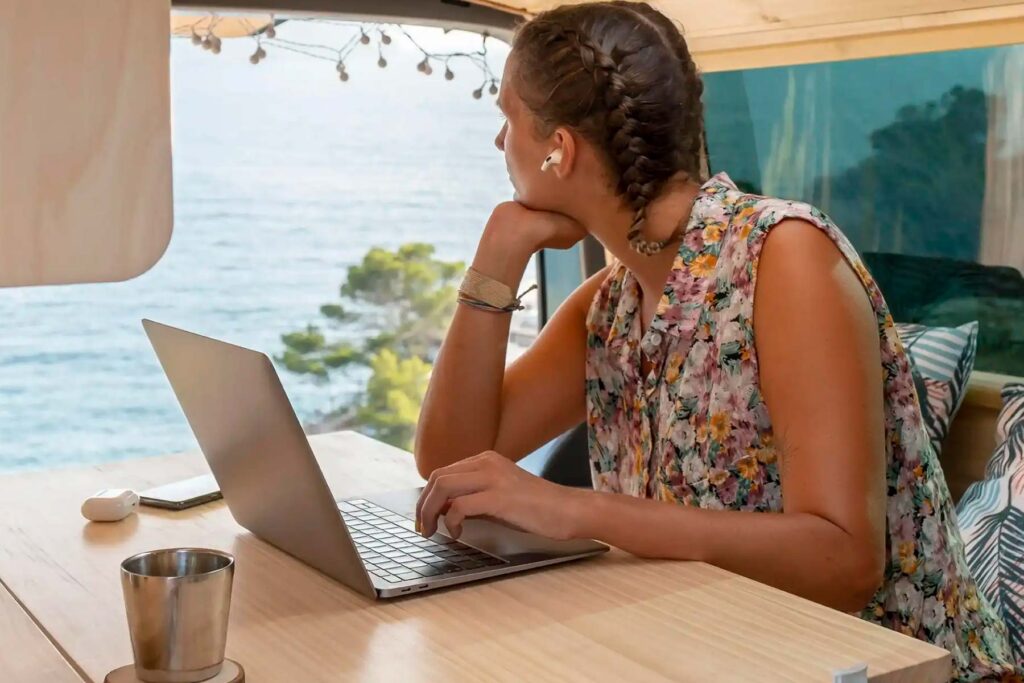 When arriving at a tourist destination such as a holiday village, van travellers must consider how to park and how to access services such as electricity, water and sewage. It is therefore important to find out about these aspects before arriving in order to ensure that your stay is as comfortable and trouble-free as possible.
Furthermore, it is essential to be aware of all local laws and regulations that may apply.
Life in a van becomes much easier when we choose a pitch in a holiday camp.
For example, since we do not have a toilet in our small van, we are grateful to have a toilet and shower, which are obviously available on the campsite.
Even cooking or washing dishes is more fun when you have hot running water at your disposal and do not have to worry about safety.
BiHoliday Villages
BiHoliday resorts are located in Caorle, Italy, and in Fazana, Croatia.
In addition to the availability of mobile homes, apartments and a hotellerie service, they have numerous pitches for tents, caravans and RVs, ideal for those wishing to spend a holiday in nature and relaxation.
Pitches are spacious and shady, with electricity connection and shared toilets and showers (also equipped with private bathrooms).
A service RV area, with black and grey water drainage, is also available.
The Villages offers a wide range of activities for their guests, including large swimming pools with slides, an aquapark, tennis courts, five-a-side football, beach volleyball, padel etc, a mini-club and an outdoor fitness area.
In addition, the villages organise animation for both adults and children, with games, tournaments and evening shows.
For those wishing to explore the surrounding area, San Francesco Village is strategically located close to Venice, Caorle and its beaches, the Livenza River and the many tourist attractions nearby.
The BiVillage is just minutes from Fažana and Pula, overlooking the beautiful Brijuni Islands archipelago.
Moreover, our staff is always available to provide information and assistance to guests, ensuring a pleasant and comfortable stay.
The authors
We are Annika and Mathias, German travel photographers.
We developed our passion for travel and photography over the last few years together and have travelled to all 7 continents ever since.
Photography has been our main job for the past year and half of it has been spent in our van.