Welcome among the Bi Holiday Ambassadors
Enjoy all the benefits: only for you the Ambassador Member Card includes all the Bi Card benefits!
We have selected a small group of Ambassadors from among all our guests to whom we would like to dedicate valuable benefits as a thank you for all these years together.
You are one of the Ambassadors 2023 – here is our gift for you!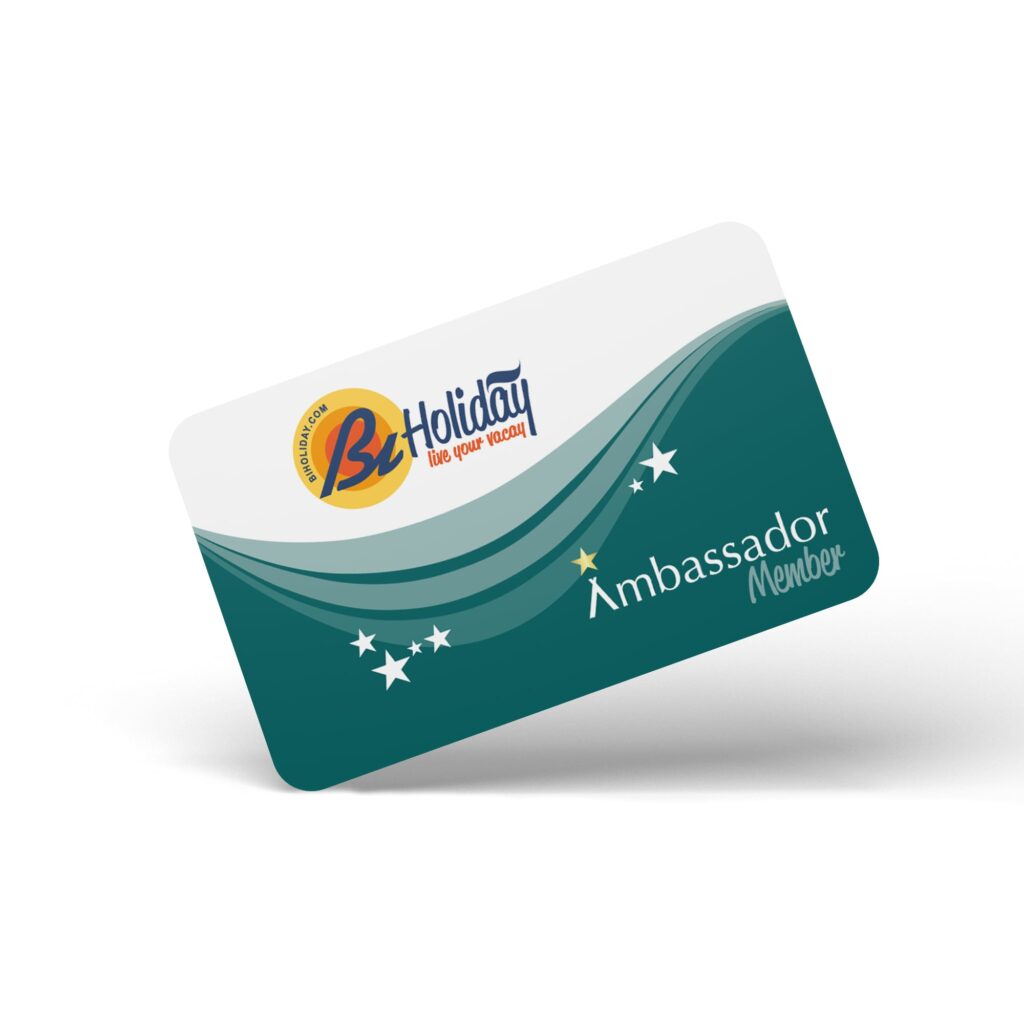 Ambassador Member Card
Here are your benefits:
You will immediately receive 200 Bi Coins (value of €100) as a starting value for your Bi Card;
permanent discount of 5% cumulative up to a maximum of 25% + 30 extra Bi Coins for free;
continuous access to the best current offer;
possibility of accumulating Bi Coins on your Bi Card, whose value is extended for 2 years;
you can nominate a new Ambassador every year: you will receive 10 extra Bi Coins for each new customer you bring to the Village;
free of charge pitch upgrade (if available) and the possibility to choose your own pitch (subject to availability);
aaccess to discounts and agreements with the managers of commercial activities inside and outside the Village.
How to get it
Each Ambassador will receive his/her Member Card on invitation from Bi Holiday, as a reward for our most loyal guests.
Notes
The title of Ambassador Member will be lost by guests who do not stay in our Villages for two consecutive seasons.
The benefits of the Bi Card are already included for you
As an Ambassador Member, your card also includes the benefits of the Bi Card:
The card is valid for 2 years*,
for every 100€ of purchase, you'll get 10 Bi Coins on your Bi Card;
Extra Bi Coins: you'll get a bonus for purchases over 1000€! For every 500€ you spend, you'll have 50 additional Bi Coins; for purchases over 3000€ you get an additional gift: extra 100 Bi Coins on your Bi Card (one-time bonus)!
For booking a stay in the other Bi Holiday Group Villages, you'll get an extra 50 Bi Coin bonus.